The British Library Blog
August 3, 2018 17:31
A very nice feature on the British Library blog, published by Kissley Leonor. 
Read it here

Or, I have conveniently copy and pasted it for you below:
Alice in Wonderland-inspired ceramics and prints by Eleanor Stuart
I met designer Eleanor Stuart last week at PopUp Piccadilly where she was selling her Alice in Wonderland-inspired collection of plates, prints and cards. The Library holds the original Lewis Carroll manuscript of Alice in Wonderland and we also have it available online through our award-winning Turning the Pages software which Eleanor used for her research. Here she tells up more about her work.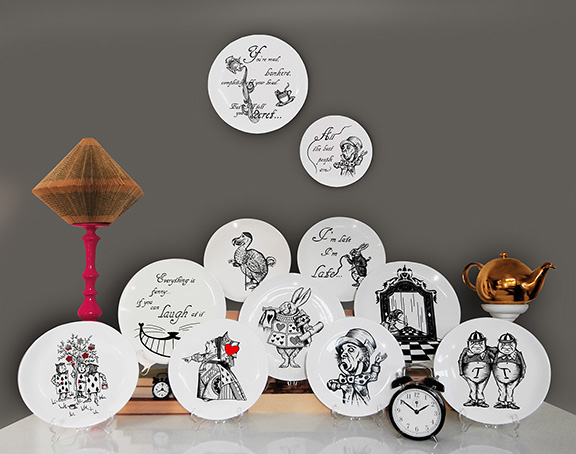 Can you tell us more about the inspiration behind your designs? 
When I first came upon Lewis Carroll's Alice in Wonderland and the illustrations by John Tenniel, I was struck by how intricate, surreal and detailed each drawing was. What I was particularly taken with was the expressions each character had that tell a story in themselves; from the rather angry looking Queen of Hearts to the nervous and very late White Rabbit to the mischievous Tweedle Twins.
The inspiration for re-working and adding my own touches to the original work was a feeling that these original illustrations were being lost in a sea of cartoon versions of Alice in Wonderland far removed from these wonderful originals. The originals are also quite small and in black and white, so I felt there was a great opportunity available to revive the illustrations, bring them sharply back to life and add colour, quotes and my own little spin to the work.
We love when people use our collections to make something new. Can you tell us about how you used the Library for research? 
When researching Tenniel's original illustrations, I used the British Library's online Turning the Pages application to see Carroll's original illustrated manuscript. What I had not previously realised is that Carroll had even illustrated his original work, and it was interesting to see that Tenniel's illustrations do bear a close resemblance to those featured in the original manuscript.
I think the British Library and its collection is an inspiration in itself: knowing all these great works of literature penned by authors both British and from afar are housed within this one huge building full of rabbit warrens and glass columns full of old books where you can find and stumble upon almost anything in the world of literature is pretty amazing.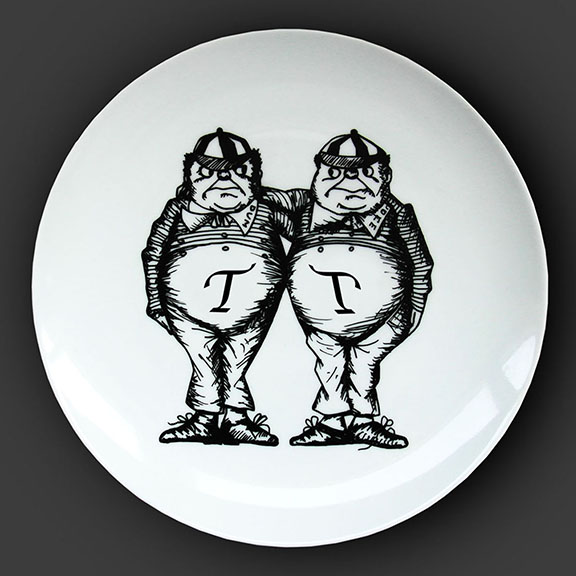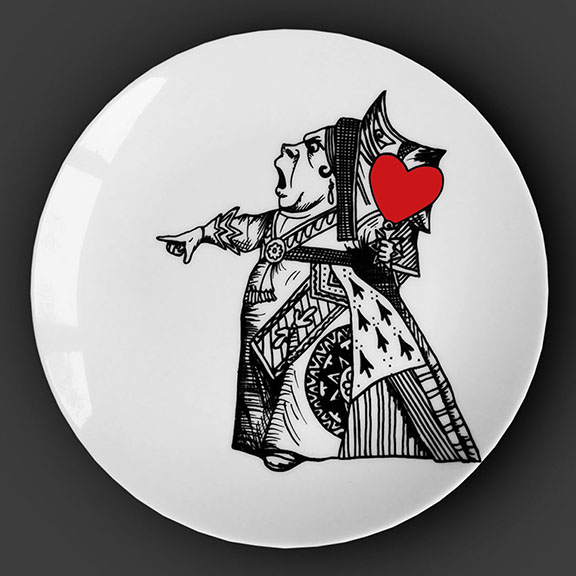 I like that image - the British Library full of rabbit warrens! What fun! So what has been your biggest challenge as a small business?
Patience! With my designs and illustrations completed, and the ideas I always have swimming around in my head, I always want to realise them instantly which is of course not entirely doable. Learning to slow down and appreciate the processes involved with realising an idea has been something I have come to enjoy. For example when I was in the process of having my Alice Collection of fine bone china plates produced, it was so rewarding to be able to visit the potteries in Stoke-on-Trent to see how this traditional British industry is still applying traditional British techniques and sensibilities to the work they produce, and I feel this attention to detail and quality of work really shows in my pieces.
What does "Made in Britain" mean to you? 
"Made in Britain" is so important to me, I put it on my logo! Not only am I proud to be made in Britain having grown up in lovely Richmond, but I love that through the work I create I can support British industry and help to keep the skills we have in this country alive and current. I have met such enthusiastic, incredibly helpful and skilled crafts people in my search for suppliers to help create my products, which is such a rewarding experience.
I also feel "Made in Britain" is important not only to British people, but internationally as well. I have found when selling internationally and in Britain that the stamp of authenticity and that relationship between my product and globally recognised institutions such as 'The Potteries' in Stoke-on-Trent is really important to people. Not only British people wanting to buy British, but international customers wanting to buy into the quality and skills they associate with the British craft and creative industries.
I have also found other designers and illustrators are equally as passionate about that "Made in Britain" stamp of approval as I am. I have come to know and admire some really great people on my journey into the world of design and illustration including Jo Robinson from HAM who creates fun animal themed screen prints made by her own fair hand in London, Cecily Vessey who designs wonderful London themed illustrations across a range of ceramics, and Sara Smith (my neighbour at PopUp Piccadilly!) whose selection of colourful, gilded and illustrated teacups are really rather beautiful – and made in Stoke-on-Trent.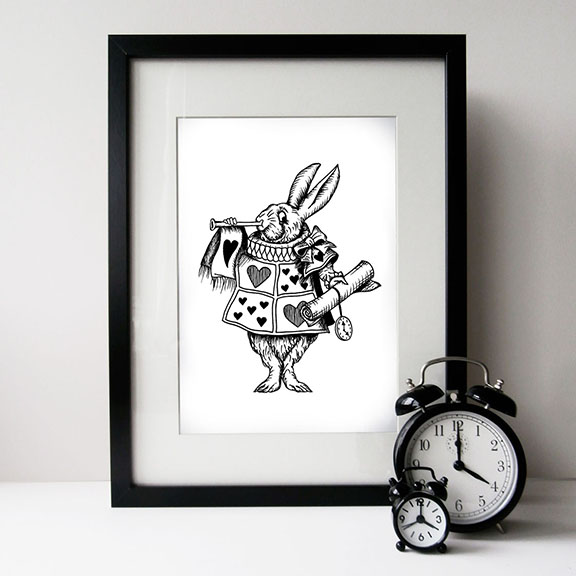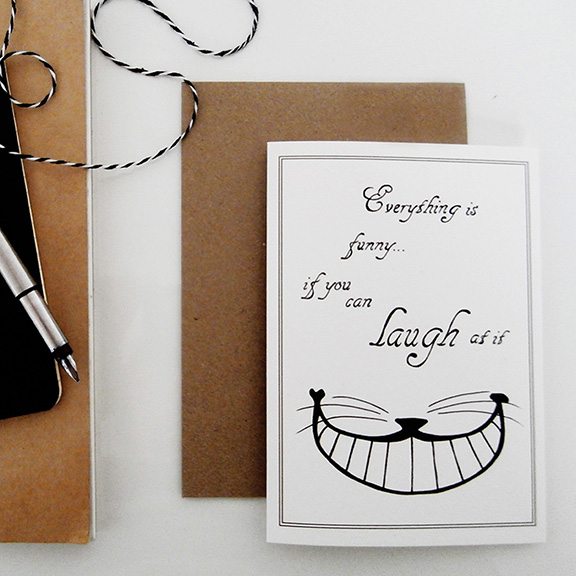 The shop has been super busy, I hear. What kind of feedback are you getting?
I have had some really amazing feedback; I would say it has been one of the best things I have done as a small business in terms of exposure, testing the market and meeting other like-minded designer/makers. (Rupert Laing from Shortbread House has made mine and my fellow designers stay at PopUp Piccadilly particularly enjoyable with an ever refreshed supply of delicious shortbread samples to hand).

As a predominantly online business, coming out from behind my computer screen and meeting my customers, showing them my products and being able to have them touch and feel the quality of each item has been a really rewarding experience. I have also had a great response from potential retailers, so that is an exciting direction I am looking forward to taking my business in - with Alice and her surreal, mad and late friends in tow!
- See more on the British Library - Inspired by blog