We love it when illustrators find inspiration in our collections and create new products. Eleanor Stuart did just that with her Alice in Wonderland-inpsired ceramics. Since our last interview with her back in August her business has taken off and here she tells us all about it. 
How has your business has grown since the success of PopUp Piccadilly last August?
Since PopUp Piccadilly the business has grown beyond what I could have imagined this time last year when I started. I always wanted to work with great British retailers and when I started I imagined that one day, many years in the future, I might work with places such as the British Library, Liberty, the Royal Academy and Somerset House and yet within my first year I've been lucky enough to work with them all so I have to pinch myself sometimes!
I've also designed two new collections since Piccadilly which has been great to flex my illustrator fingers trying out new styles of illustration; my Animal Collection in particular was an exciting new abstract style of illustration for me which has proven to be successful so far – it even caught the eye of Rick Stein's team who loved the Octopus and Seahorse so much they commissioned a Lobster and Crab so they could stock a whole sea-life inspired range in their Padstow shop, so what started as an exotic collection of animals now also includes a humble crab and lobster!
Can you tell us about the inspiration behind your Animal Collection? I love the seahorse!
The Animal Collection was born from a humble doodle. I had been toying with the idea of creating a series of illustrated animals for a while but couldn't quite imagine how I wanted them to look, and then one eve in December I drew the outline of an elephant and started to draw shapes and lines within it and as it came together I realised I really loved the abstract and detailed quality to the drawing as I love quite simple and geometric shapes.
I was keen to explore exotic animals as they tend to have more unusual shapes, patterns and vivid colours which was perfect for my simple and abstract style of drawing. After going through an entire alphabet of animals I finally settled on my final six – an Antelope, Flamingo, Octopus, Parrot, Peacock and Seahorse and on Christmas Day, I started drawing the Antelope in the morning and by Boxing Day morning finished off the final line of the Seahorse and an Animal Collection was born! 
Some designers create work in line with trends. Do you keep up with trends or do you just create what you like and let your work sell itself?

Very much the latter! I think as an illustrator, and for any creative person, it's important to at least start from a point of creating what you love, otherwise you will forever be chasing trends and you'll never really develop your own confident style. I think from that point onwards you can then introduce elements of trends into your work rather than attempting to mimic styles and trends other people have set; for example if neon pink was suddenly on trend it might be fun for me to produce a limited run of neon pink Flamingo prints, but I wouldn't necessarily design a whole new bright pink product for the sake of it (my eyes couldn't take it!)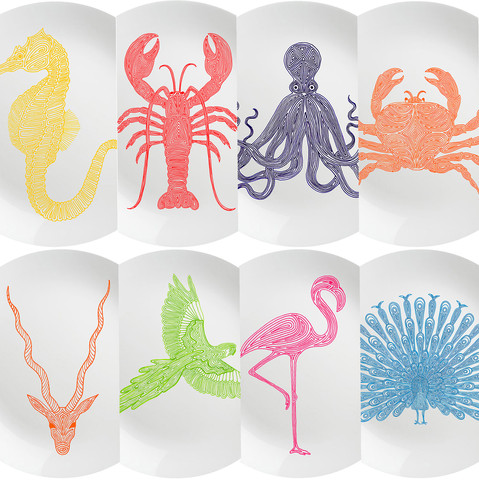 You're getting a lot of press coverage – how has that helped?

Having your pieces in the press is always exciting – I think the best moment I had recently was reading through the Metro and coming across a large picture of my 'Girl with a Hot Air Balloon' plates as part of a feature on decorative plates when I had no idea it was going to be in that particular issue so that was a nice surprise – if not a little surreal! Press pieces are always great for publicity and exposure and the more targeted pieces such as featuring in a weekend magazine interiors section can really directly boost sales.
Have you taken on more staff?
I have recently taken on a much needed member of staff! I'm currently doing a pop up shop in Camden and after working in the shop every day for five weeks I thought it's about time I get a little help and so I now have a great assistant who works with me. 
Have your business challenges changed? 
 
The challenge now, having created a number of products which I'm really proud of, is getting the world to notice me! I think with any small business, particularly a product based business, marketing is key and with social media and a little press release writing savvy it's not as daunting as it seems. It does have to be an almost daily consideration, marketing yourself and your work, because if no-one's finding you no-one's buying from you!
I also love meeting fellow small businesses at events such as fairs and markets and going to talks such as the recent Crafty Fox Talks where one of the speakers was the PopUp Britain and Enterprise Nation founder Emma Jones who since PopUp Piccadilly has been such an inspiration and help to me as I've built my business over the last year.